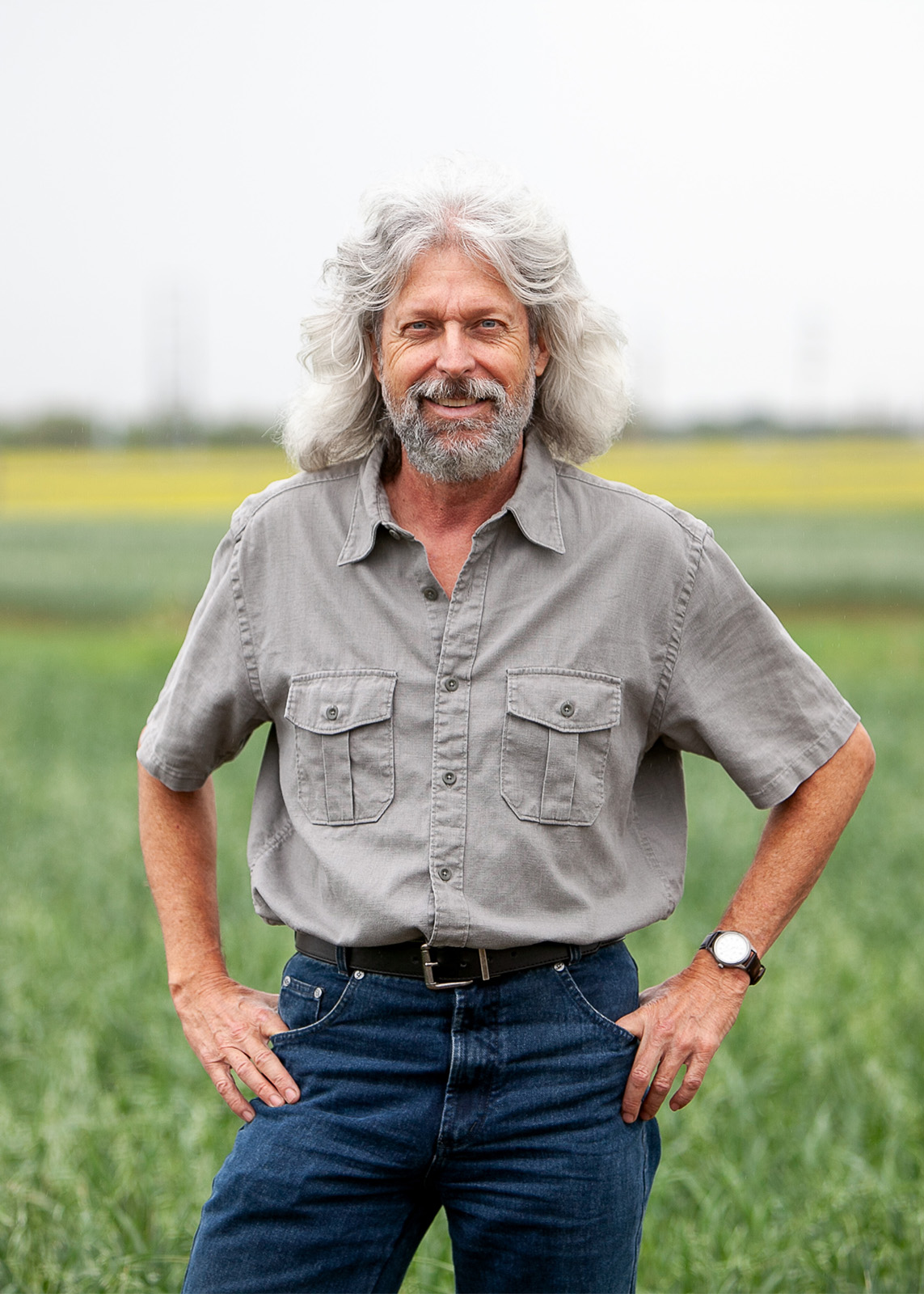 Dr. H. Randy Kutcher (PhD)
Professor
Ministry of Agriculture Strategic Research Program (SRP) Chair in Cereal and Flax Crop Pathology
UNKNOWN FUTURES: PLANT PATHOLOGISTS PREVENTING DISEASE IN AN UNPREDICTABLE WORLD
(by Ashleigh Mattern)

Professor Randy Kutcher says the future is murky when it comes to plant pathology; the only thing you can really rely on is that things will change.
Kutcher is a cereal and flax pathologist with the Crop Development Centre, with a lot of his work focusing on the fusarium fungi, which is one of the biggest challenges with cereal production. He describes himself as an applied plant pathologist, usually looking at whole plants and crops as opposed to the fundamentals of disease at the cellular or DNA level.
He says it's hard to make long term forecasts in this line of work because the landscape is always changing — sometimes literally.
"If you look at the eastern part of the prairies, in Manitoba, there is a huge amount of soybean, and I would have never guessed it would have taken off to the extent it has so quickly," he said.
"Southern Manitoba is now covered in soybean and increasingly in corn, and that really changes things for a disease like Fusarium head blight." There are Fusarium pathogens that survive well in corn that might affect how growers manage wheat and barley.
Kutcher is familiar with the Manitoba landscape — he grew up in Dauphin, MB., working on his uncle and aunt's farm, previously his grandfather's, every spring before he found a summer job. He's always had an interest in science, taking all of the science courses in high school, and that agriculture connection influenced his eventual career trajectory. The promise of discovery is what excites him most about his work,he said.
"You can investigate little things that can take off and turn into big things."
THE IMPACT OF TECHNOLOGY
It's hard to predict what's going to take off, though. Drones first came on the scene several years ago, and Kutcher said it seems like precision agriculture may be the future.
"Like any new technology, there's lots of ideas that it's going to change the world, but let's figure out what we can use it for first," he said.
There's still a lot of interest in management of crops using drones because the technology has come down in price, but the challenge is knowing what to do with the information you collect.
"You can take a lot of pictures but what do you do with it?" Kutcher said. "Sometimes the technology is there but our understanding of the biology has to catch up." Sometimes changing technology or practices is what makes pathogens hard to predict.
In his grandfather's time, Kutcher said it was common to plough the soil "to death," but now most farmers are practicing some form of reduced or no till. These types of changes can drastically change the environment for plant pathogens.
"Tillage or lack thereof, has a big impact on the residue out there," he said. "What we're trying to do is understand the diseases themselves, and the pathogens that cause them. What impact do changes in technology have?"
Those changes might change how the disease spreads, or it might create an opening for a new disease.
AN INTERCONNECTED WORLD
The challenges of changing landscapes aren't limited to the local environment, either — sometimes changes far afield can have an impact.
As part of his work, Kutcher has travelled to Ecuador and he says seeing how plants develop in other environments is also a learning opportunity. He says stripe rust is such a major problem in Ecuador that farmers there no longer grow much wheat even though they used to.
"They import most of their wheat, which is costly for them," he said. "If a pathogen changes, these are international problems. If you get mutations in plant pathogens, such as the pathogen that causes stripe rust, in the southern hemisphere, they're going to show up here eventually."
You never know how the market will change, either. Biodiesel and alcohol were hot topics in 2008, driving up the price of ethanol grains, but only 13 years later, the attention seems to have shifted to electric vehicles.
More recently, a growing interest in plant-based diets may also change the demand for the crops farmers are growing.
The focus of Kutcher's studies is constantly shifting, keeping him on his toes. "We're still not great at predicting the future. If a disease was a problem last year, will it be this year?"
He may not know the answer, but when the next problem is presented to him, he'll use all of the tools in his belt to figure out a solution.