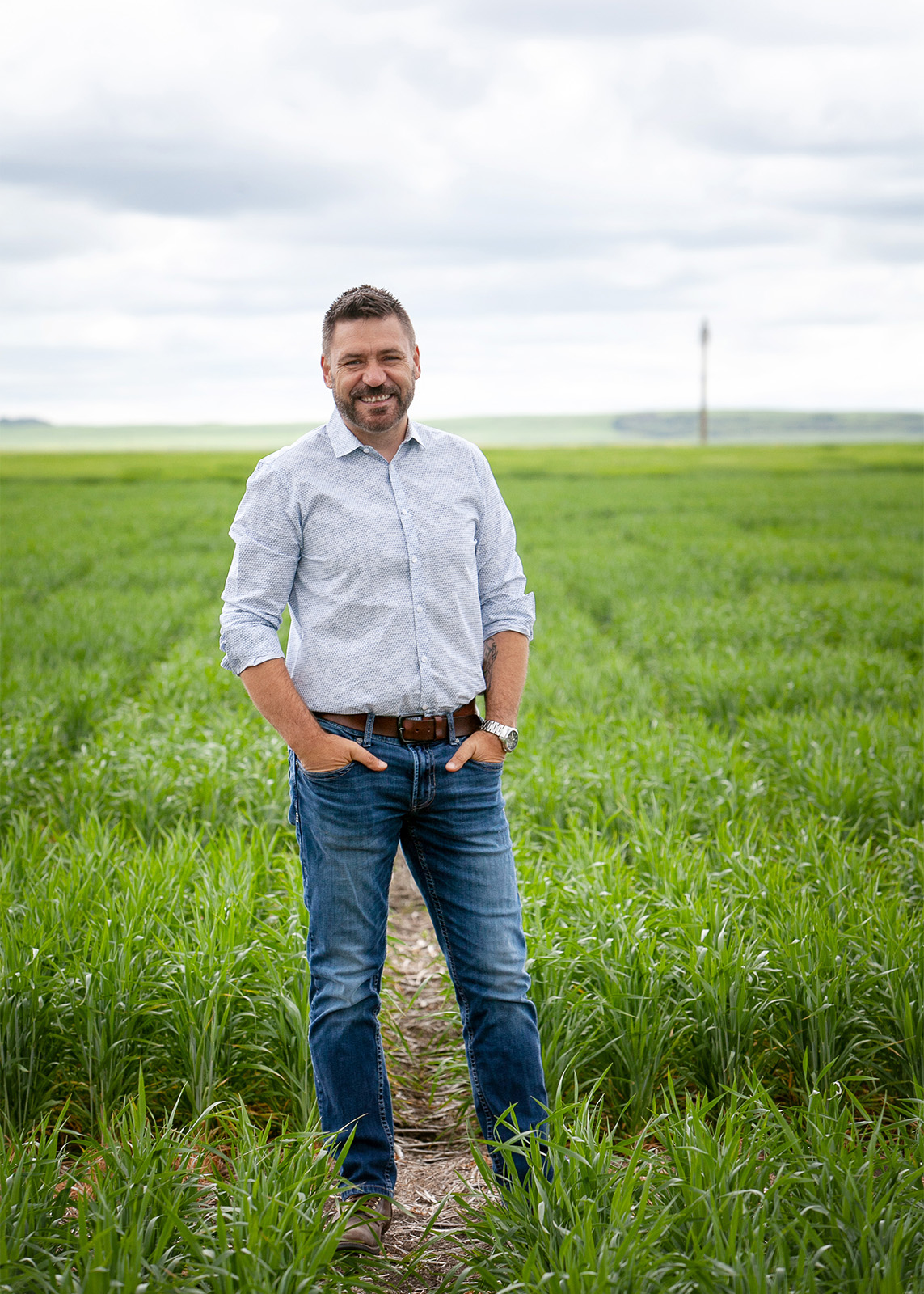 Dr. Curtis Pozniak (PhD)
Professor and Director, Crop Development Centre
Ministry of Agriculture Strategic Research Program (SRP) Chair in Durum and High-Yield Wheat Breeding and Genetics
FINDING CLUES TO TRAITS IN DNA: NEW TOOLS MAKE PASTA WHEAT HEALTHIER AND SAFER
(by Ashleigh Mattern)
Professor Curtis Pozniak, director of the Crop Development Centre compares his work sequencing the genomes of wheat varieties to sending your own DNA to be tested. "You can appreciate that each one of us is different," he said, and it's the same with wheat.
"Each different variety has a unique fingerprint. Once we have the blueprints, we can compare them, and that is what is so powerful. You can compare the sequences and say, OK, this variety is different than this variety in terms of this gene or that gene."
Pozniak's program breeding durum and high-yield wheat is involved in sequencing the DNA of wheat varieties from around the globe, all with the aim of developing robust DNA tests to select for a range of traits, including disease resistance in wheat. Making those comparisons can give you clues to which genes make which plants resistant to certain diseases, or which genes might influence agronomic performance or end-use quality.
"These comparative genomic studies are something that our program is world leading in, and we use that to develop diagnostic tools to help us with selection," Pozniak said. His program is researching how to develop new tools to use in plant breeding to improve the efficiency of selection.
In the past five years or so, he says they've published almost 20 different genome sequences of different wheat varieties.
There are more than 20 people supporting his program's plant breeding activities, working on developing  new varieties with high yield potential and better disease resistance.
SAFER PASTA WHEAT
Durum wheat is primarily used for pasta, or dishes like couscous and bulgar. It's sometimes referred to as pasta wheat, and they're looking for specific characteristics that are in demand, like improving the texture and the yellowness of the pasta.
Up to 60 per cent of the durum traded globally is produced in western Canada. "There's a good chance that if you eat pasta, it was produced from durum wheat grown right here on the prairies," Pozniak said.
Fusarium head blight is one of the biggest challenges for wheat right now, and Pozniak says durum is particularly susceptible. He says a better part of his career at CDC has been identifying good sources of resistance and over the past 10 years, his program has made "substantial progress."
The disease produces mycotoxins that are harmful for human health and can result in a yield loss for producers if there's too much of it in a wheat sample. "Having the resistance is not only important to protecting the yield but ensuring the health and safety of the product," Pozniak said.
LOOKING TO THE FUTURE
Pozniak grew up on a farm two and a half hours east of Saskatoon near Rama, Sask. His intent had always been to go to university, get an agricultural degree, and return to the farm, but a summer job derailed his plans. "I got positioned as a summer research associate with a few breeding programs and I became instantly hooked to plant breeding and genetics," he said. "I found it absolutely fascinating."
His experience during graduate school training at the CDC was the extra push he needed to move into a plant breeding position.
"It was fantastic training with wonderful mentors who recognized my strengths," he said. Pierre Hucl was his PhD supervisor, and the director of the CDC who preceded him.
Now, Pozniak is leading the organization. He said he was attracted to the position as director because the centre has had a tremendous track record of success and much potential for future growth.
The Centre has released more than 500 varieties in its 50 years, and Pozniak said his vision is to expand the growth of the CDC in a sustainable way, and to ensure the infrastructure and stakeholder relationships are in place to ensure the continued development of varieties that would be in demand by growers.
"We need to look to the future — what will the ag-sector look like and what will be in demand? How do we stay on the leading edge of research so that we can continue to remain relevant as an organization?"
He also wants the CDC to continue to be recognized as a trusted brand, and to continue to foster relationships with collaborators and stakeholders.
"The strength of the CDC will continue to be our partnerships and recognizing we can not do everything ourselves. We must continue to foster relationships across the agri-food sector to ensure future success."